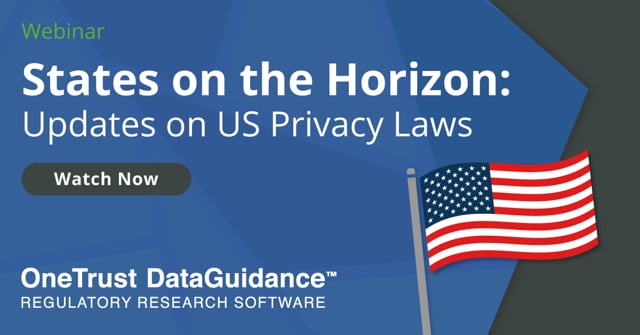 States on The Horizon: Updates on US Privacy Laws
Create a free account to access. Already a member?
Log In
.
Throughout 2021, we have seen several privacy laws proposed, revised, and enforced in the US. Some of these laws that have seen success include Virginia's Consumer Data Protection Act (CDPA) and the Colorado Privacy Act (CPA), among other bills like in Nevada. There have been many additional developments announced across the US, with bills proposed and pending in Ohio, Oklahoma, and Massachusetts.
Watch OneTrust DataGuidance and a panel of legal experts to take a look into the past, present, and future of US Privacy Laws.
Key takeaways from this webinar include:
An overview of the US privacy laws that have taken effect in or before 2021
An analysis of the states that have proposed bills, or other key legislation which has not yet been adopted
A look into the future of US privacy laws, with a forecast of the anticipated developments for US states in 2022
Further Resources on US Privacy:
Watch the OneTrust DataGuidance webinar: 'States on The Horizon: Updates on US Privacy Laws' and follow OneTrust DataGuidance on LinkedIn to keep up to date with upcoming webinars, insights, and more.