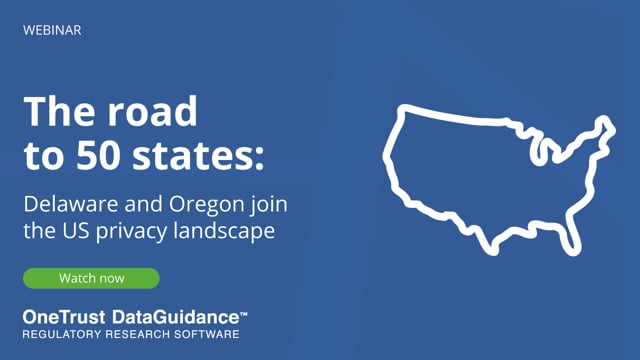 The road to 50 states: Delaware and Oregon join the US privacy landscape
Create a free account to access. Already a member?
Log In
.
Following several US privacy laws that have been introduced or enacted over the last year, Oregon and Delaware have each proposed new comprehensive state privacy laws, requiring businesses with operations in these states to comply with new privacy requirements. 
Oregon legislators have introduced Senate Bill 619 for an Act relating to protections for the personal data of consumers, which was signed by the Senate President and the Speaker of the House of Representatives. The bill is now awaiting the Governor's (Tina Kotek) signature. Similarly, in Delaware, House Bill 154 for the Delaware Personal Data Privacy Act was passed by the Senate and the House, and now awaits the governor's signature for the law to go into effect. 
In line with other US State privacy laws, the Oregon Consumer Privacy Act (OCPA) and the Delaware Personal Data Privacy Act (DPDPA) both introduce requirements related to the processing of personal data, establish definitions including biometric data, the sale of personal data, as well as sensitive data, and provides consumers with rights including the right of access and the right to opt-out of targeted advertising and the sale of personal data, among other things.  
In this webinar, OneTrust DataGuidance and experts discuss the new US privacy laws and explore the implications for organizations including their obligations under the OCPA and DPDPA, and key compliance considerations.  
Key takeaways include:
Overview of OCPA and DPDPA 
How the new state laws compare to other US Privacy Laws 
How the new laws will impact organizations and what businesses must do to prepare for compliance
Featured speakers:
Eva Novick, Special Counsel, Miller Nash LLP
William Denny, Partner, Potter Anderson Corroon LLP