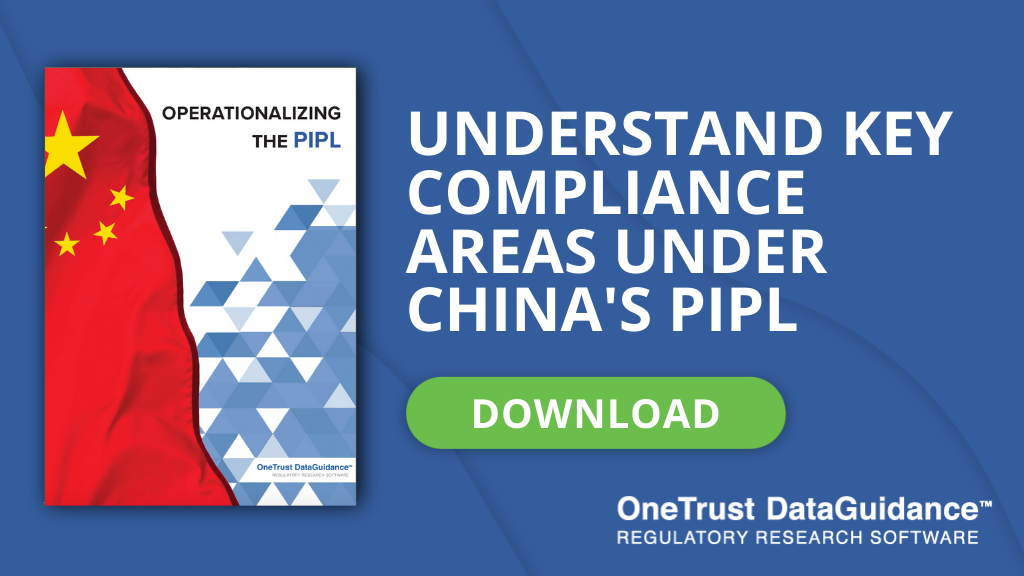 Operationalizing the PIPL
Create a free account to access. Already a member?
Log In
.
On August 20, 2021, the National People's Congress (NPC) Standing Committee in China adopted the Personal Information Protection Law (PIPL). The PIPL entered into effect on November 1, 2021, and requires many organizations to understand and implement its provisions to demonstrate compliance.  
The PIPL introduces several new requirements for organizations to operationalize including data localization requirements for personal information handlers and a range of data subject rights. In many ways the PIPL mirrors the GDPR, therefore organizations that already fall under the scope of the GDPR will be able to leverage many of their existing processes. However, it's important for organizations to understand the nuances of the PIPL. This report features several articles authored in collaboration with OneTrust DataGuidance's network of contributors in China and highlights some of the most important areas to operationalize in line with the PIPL.  
Download the report: Comparing Privacy Laws – GDPR v. PIPL 
Operationalizing the PIPL Report 
The Operationalizing the PIPL report contains a six-part series of articles on putting the PIPL into action. The articles have been expertly authored by Carol Sun and Jeff Wang Partner and Counsel, respectively at YuandaWinston China Law, Dehao Zhang, Counsel at Fieldfisher LLP, and Ziqing Zheng, Non-equity Partner at Zhong Lun Law Firm. Throughout this report, we discuss the complex area of data transfers, data localization, consent, legal bases for processing, vendor management, and data breach reporting. Additionally, each article contains useful comparisons to the GDPR.  
This report will soon be updated to include the final two articles of this series which will examine the PIPL's scope of application and data security. 
Further resources on operationalizing the PIPL:  
Follow OneTrust DataGuidance on LinkedIn to keep up to date with upcoming webinars, insights, and more