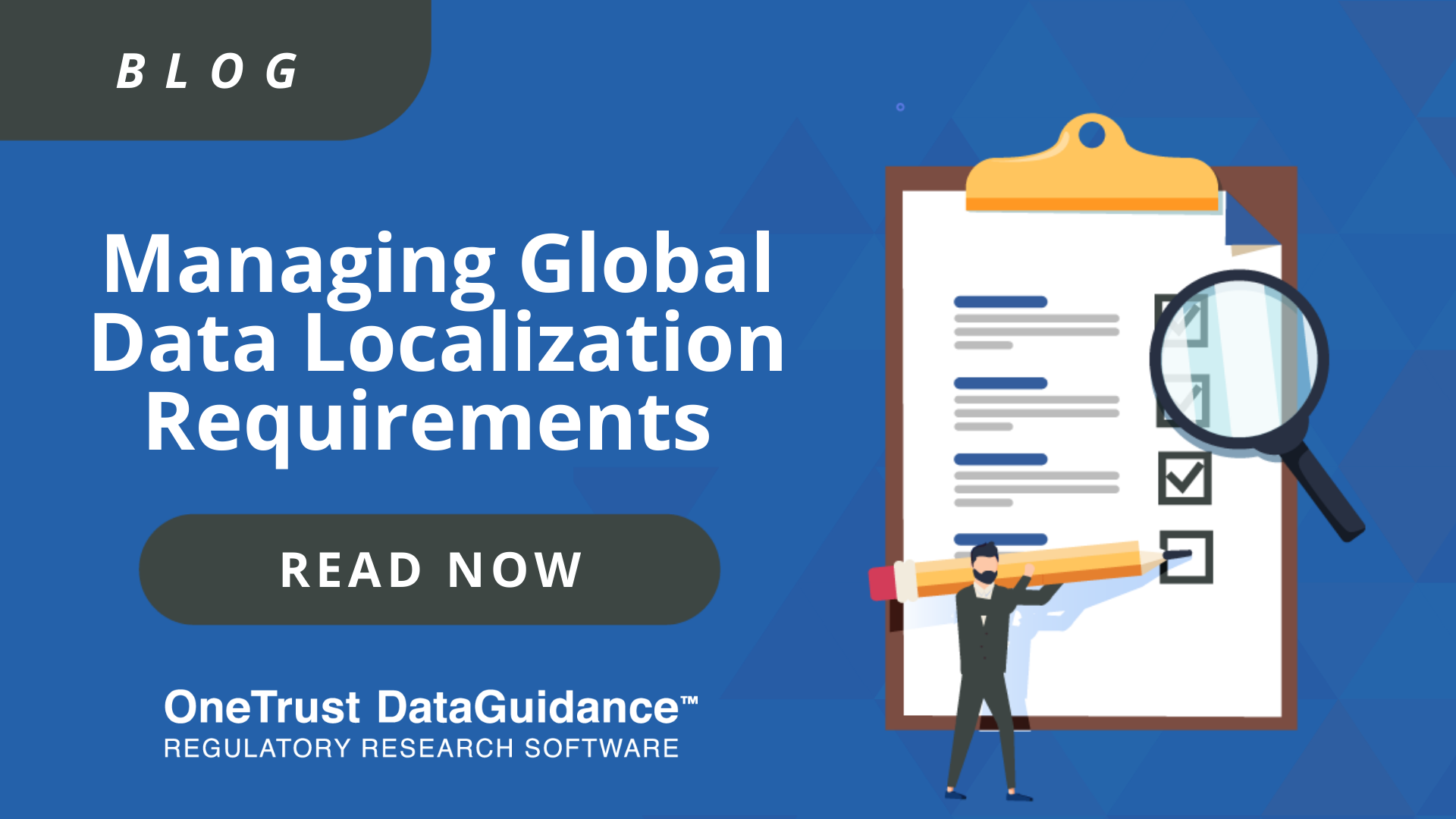 Managing Global Data Localization Requirements
Organizations are facing increasing complexities in relation to when and how data can be transferred internationally. In addition to complying with restrictions embedded within data protection legislation, organizations need to understand additional data localization laws that specify further requirements in relation to the geographical location of where the data of its citizens or residents is stored, collected, or processed and whether this data can be transferred internationally, and which are often specific to sectors or categories of data. 
Register for the webinar: Where Must Your Data Reside? Managing Global Residency Requirements on June 22 at 1:00am EDT
Data localization laws that have been adopted leave multinational companies facing a particular challenge when collecting, processing, and storing the personal data of their employees or customers and when developing their own internal policies and processes. Varying requirements from country to country and the need to fully understand these different requirements is crucial for a global compliant privacy program.  
The business impact of data localization laws
To understand global localization requirements and assess the impact on their operations, organizations must consider multiple factors. Beyond specifying the geographical location of stored data, localization laws typically have several other requirements including;  
Specific data transfer criteria 
Requirements around the storage of data 
Measures for regulated data types, and 
Measures for sector-specific data 
Certain data localization laws require data to be stored within a specific country with often strict conditions for data being transfers outside of the said country, whilst others prohibit transfers in their entirety. Many jurisdictions opt for sectoral rules on data transfers including company records, financial, and government-related data. Different jurisdictions also put varying requirements in place for general personal data and special categories of personal data. Furthermore, there may be varying obligations for sector-specific data such as health data, financial records, or telecommunications data. India, for example, has specific residency requirements in place for financial and telecommunications data.  
Read the blog: Global Data Residency Compliance Made Easier with OneTrust DataGuidance
How OneTrust DataGuidance helps 
You can now consult the OneTrust DataGuidance Data Residency research tool to help you understand your requirements for data localization, to structure your internal policies and procedures to be in compliance with global residency and localization requirements,  
The new Data Residency research tool can help you understand applicable residency requirements for the financial sector, including banking, credit, and transaction data. Data Residency also helps you to understand whether company records are held within the correct jurisdictions and headquarter locations, as well as their availability for inspection by authorities. The tool can assist with understanding sectoral requirements including health, telecommunications, and government-related records. OneTrust DataGuidance Data Residency can be used in conjunction with the Retention Schedules tool to help you identify the critical data retention periods for regulated personal data types across multiple jurisdictions.  
The myriad of data localizations laws across the world makes understanding your obligations a complex scenario. Add specific rules per sector and category of data into the mix and the equation becomes even more complicated. OneTrust DataGuidance Data Residency offers crucial localization information in multiple jurisdictions to help you understand your responsibilities and inform your data residency policies.  
Further data residency resources: 
Follow OneTrust DataGuidance on LinkedIn to keep up to date with upcoming webinars, insights, and more.