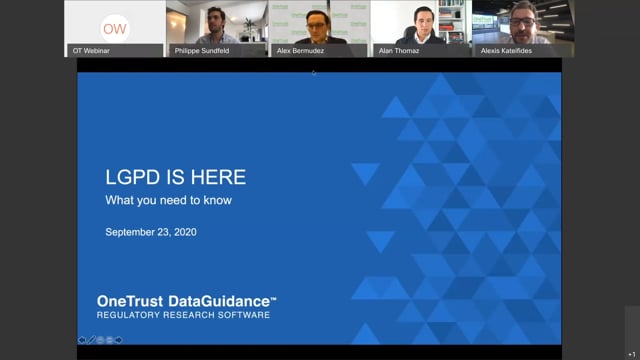 LGPD is here: What you need to know
Create a free account to access. Already a member?
Log In
.
LGPD: What You Need To Know 
After a lengthy procedure that lasted more than two years, the LGPD is finally here.
The law entered into force on 18 September 2020, except for its enforcement provisions, which are still scheduled to become effective on 1 August 2021. In addition, the structure of the Brazilian data protection authority ('ANPD') has been approved by President Bolsonaro, however, the appointment of its members is still awaited.
Download now: Comparing Privacy Laws: GDPR v. LGPD
LGPD Webinar
OneTrust DataGuidance hosted a reactionary webinar just days after the entry into force of the LGPD to discuss the development with top privacy professionals from Brazil. OneTrust's Alexis Kateifides, Privacy Counsel, and Alex Bermudez, Offering Manager - Latin America,  were joined by Alan Thomaz, Partner at Alan Thomaz Advogados, Gabriela Moribe, Data Protection Lawyer at the Brazilian Network Information Centre, and Phillipe Sundfeld, Senior Legal Counsel at Wildlife Studios.
In this webinar, our expert panel discussed, among other things;
compliance with the LGPD and its potential retroactive effects;

what can be expected from the ANPD and the expected timeline for forming the authority; and
key steps businesses can be taking now to comply with Brazil's General Data Protection Law
Explore the OneTrust DataGuidance Portal and discover more reports relating to Brazil's General Data Protection Law as well as webinars, whitepapers, and more.