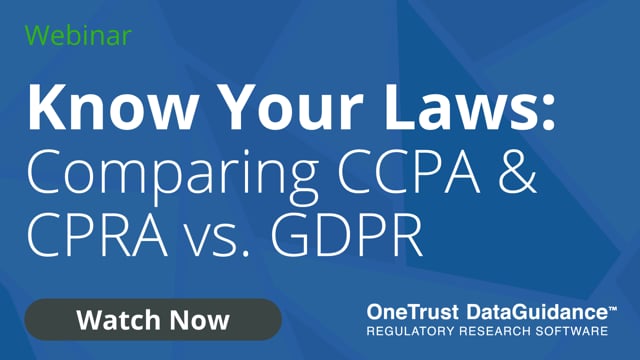 Know Your Laws: Comparing CCPA & CPRA vs. GDPR
Create a free account to access. Already a member?
Log In
.
The EU's General Data Protection Regulation (Regulation (EU) 2016/679) ('GDPR') has applied since May 2018, and the California Consumer Privacy Act of 2018 ('CCPA') followed soon after. In Europe and the US, these two pieces of privacy legislation are amongst the strongest, ensuring the protection of individuals' personal data.
In this webinar, experts compare the GDPR and CCPA, while also discussing the amendments to the CCPA to be brought by the California Privacy Rights Act of 2020 ('CPRA'). Watch the recording, where OneTrust DataGuidance and a panel of expert contributors compare the laws while focusing on the following areas:
Key Takeaways Include:
Differences in key definitions
Legal basis and scope of applications of the GDPR and CCPA/CPRA
Controller and processor obligations under each law
Data Subject Rights
How each law differs with respect to enforcement
Further Resources on California Privacy Laws:
Watch the OneTrust DataGuidance webinar: 'Know Your Laws: Comparing CCPA & CPRA vs. GDPR' and follow OneTrust DataGuidance on LinkedIn to keep up to date with upcoming webinars, insights, and more.