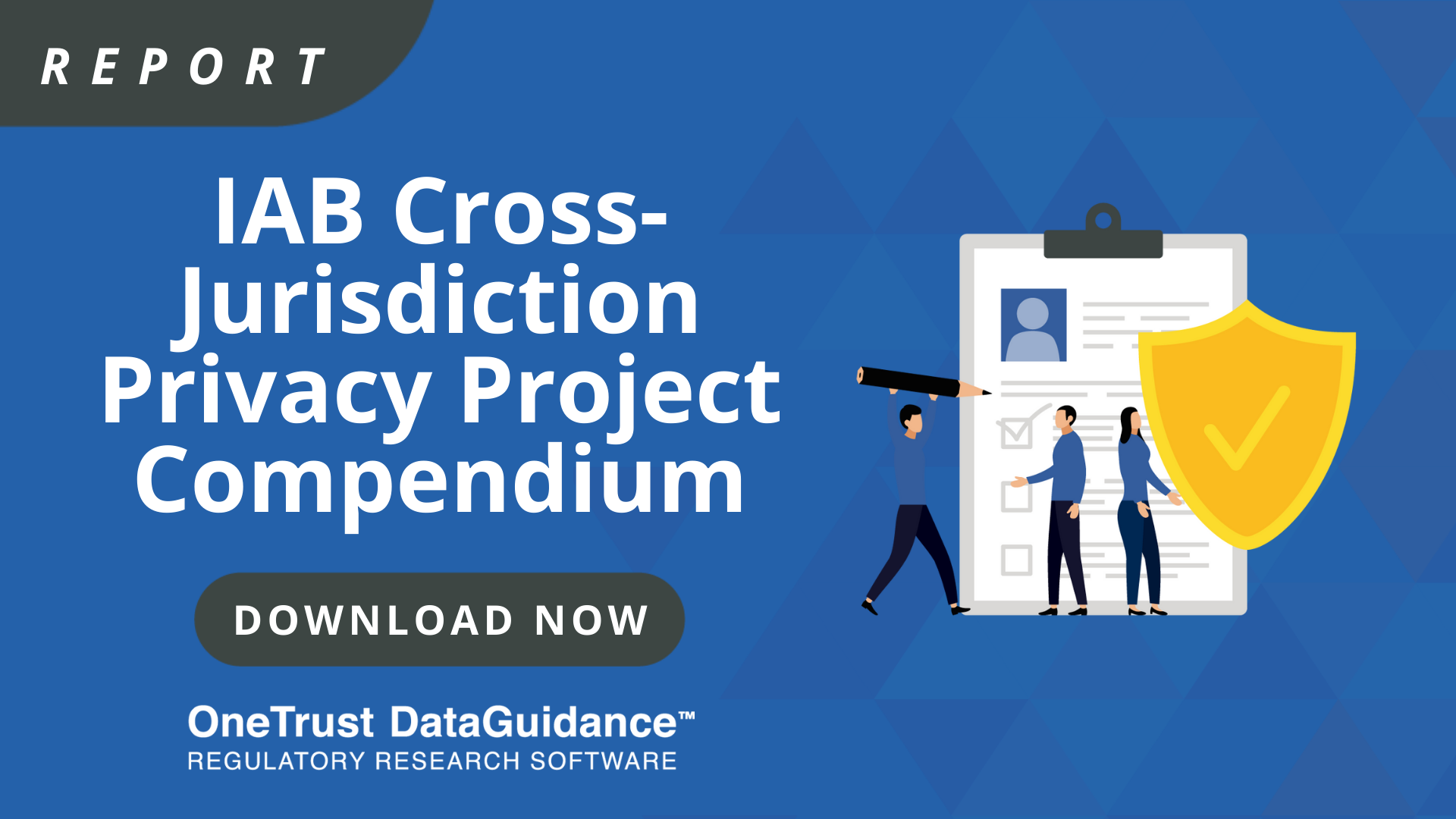 IAB Cross-Jurisdiction Privacy Project Compendium
Create a free account to access. Already a member?
Log In
.
On July 22, 2021, the IAB's Legal Affairs Council in partnership with OneTrust released its Cross-Jurisdiction Privacy Project (CJPP) Compendium - a report exploring the privacy laws of 11 countries and the impact these laws have on the digital advertising industry.  
Read the press release: IAB Releases Cross-Jurisdiction Privacy Project Compendium and Legal Specifications 
IAB Launches CJPP Compendium in Partnership with OneTrust 
Utilizing OneTrust DataGuidance's extensive network of legal contributors and expertly authored Guidance Notes, the CJPP Compendium provides an overview of the privacy laws in Australia, Brazil, Canada, China, India, Israel, Japan, Mexico, Nigeria, Singapore, and South Korea. The in-depth research provided by OneTrust DataGuidance has helped the IAB outline the legal implications of varying jurisdictional requirements regarding notice and choice requirements as well as how to demonstrate compliance with these requirements.  
"We worked with 150 lawyers from across the globe, including our strategic partners from OneTrust and BakerHostetler, to create the Cross-Jurisdiction Privacy Project Compendium and learned that each jurisdiction balances consumer transparency and control with its own legal nuances that stem from policy choices," said Michael Hahn, SVP & General Counsel, IAB and IAB Tech Lab. "Other publications certainly provide an overview of such privacy laws, but the Compendium goes further in explaining how they impact digital advertising." 
The CJPP Compendium's ten chapters provide insight into topics including:  
Key privacy law definitions, including what it means to "collect" personal information  
Data controller obligations, including the notice requirements for sharing personal information with third parties for advertising purposes 
The rights available to data subjects 
Audit, accountability, data retention, and data protection officer requirements relating to the ad-tech industry 
Click 'Download' above for a copy of the IAB Cross-Jurisdiction Privacy Project Compendium or request a demo to find out how OneTrust DataGuidance can help with understanding privacy requirements relating to the digital advertising industry. 
Related reading to the Cross-Jurisdiction Privacy Project Compendium:  
Follow OneTrust DataGuidance on LinkedIn to keep up to date with upcoming webinars, insights, and more.