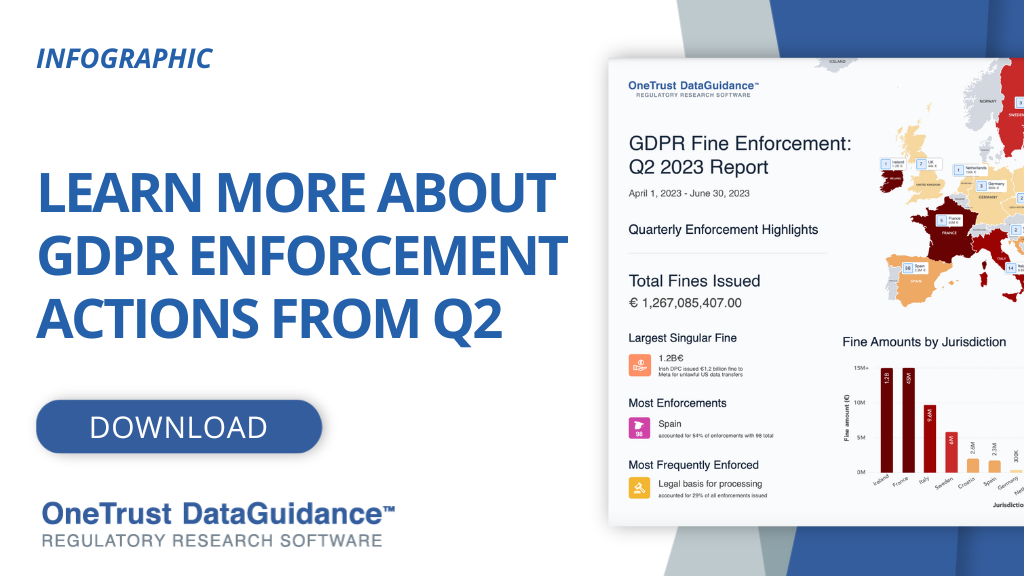 GDPR Enforcement: Q2 2023
Create a free account to access. Already a member?
Log In
.
OneTrust DataGuidance's quarterly infographic highlights the enforcement actions handed down by European supervisory authorities. Download the infographic to learn more about trends from the last three months, granular details of the total number of fines by region, the total value of fines, and the most frequent type of GDPR violation.
Keep up to date: OneTrust DataGuidance Enforcement Dashboard
GDPR enforcement action in Q2 2023
Q2 saw one the biggest fines in GDPR history as the Irish Data Protection Commission issued a €1.2 billion fine relating to unlawful data transfers. This represents the second quarter in a row that the Irish DPC has issued significant fines. Once again, the Spanish data protection authority issued the largest total number of penalties across EU member states - 80 more than the next most active DPA. 
Download the infographic to learn more about the enforcement actions handed out in Q2 2023. 
Follow OneTrust DataGuidance on LinkedIn to keep up to date with upcoming webinars, insights, and more.