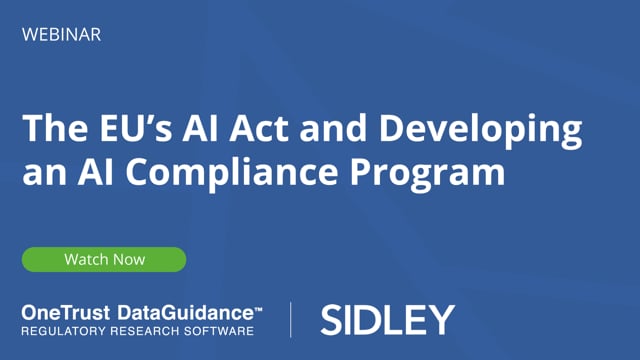 The EU's AI Act and developing an AI compliance program
Create a free account to access. Already a member?
Log In
.
In this recording, Sidley and OneTrust DataGuidance join for the third webinar in the series: Unpacking New Digital Data Laws Across Europe. This discussion focused on the proposed EU AI Act – the first standalone piece of legislation worldwide governing the use of AI. The AI Act will have a significant impact on many organizations, with failure to comply potentially leading to fines of up to €30 million or up to 6% of annual worldwide turnover.
The AI Act is expected to be finalized and adopted later this year. However, with the rapidly increasing use of AI across sectors and the impact the AI Act may have on businesses, preparation for compliance with the AI Act begins now. 
Key topics include:
AI systems and organizations that fall within the AI Act's scope – the key points and requirements to note from the AI Act
Development and implementation of an AI compliance program
Staying ahead of the rapid developments in the regulation of AI – laws, guidelines, and standards being developed in the EU and globally
Featured speakers:
Monika Tomczak-Gorlikowska, Chief Privacy Officer, Prosus
Caroline Louveaux, Chief Privacy Officer, MasterCard
Philipp Raether, Chief Privacy Officer, Allianz
William Long, Partner, Sidley Austin
Lauren Cuyvers, Senior Managing Associate, Sidley Austin
Follow OneTrust DataGuidance on LinkedIn to keep up to date with new resources, insights, and more.