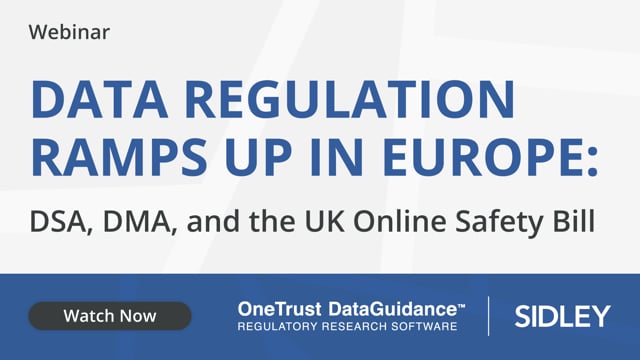 Data Regulation Ramps Up in Europe: DMA, DSA, and the UK Online Safety Bill
Create a free account to access. Already a member?
Log In
.
OneTrust DataGuidance was joined by Sidley for a webinar focusing on the impact of recent legislation aimed at data regulation: The EU Digital and Data Strategy, and the UK Online Safety Bill (UK OSB).
Since the EU announced its Digital and Data Strategy in February 2020, the European Commission has released several legislative proposals to regulate digital platforms and services, including with respect to access and the use of data. Included within the proposals are the Digital Markets Act (DMA) and the Digital Services Act (DSA).
The UK — which, since Brexit, will no longer be covered by the EU Digital and Data Strategy — has been working on its own National Data Strategy: the UK OSB. The UK OSB is similar in scope and application to the EU DSA: however, we will discuss some key differences in this webinar.
As the European data landscape becomes increasingly complex, Sidley is prepared to help you navigate the ever-evolving policies and procedures. This webinar covered several key points, including:
An overview and understanding of the DMA, DSA, and the UK OSB and their overlap with existing laws
Key provisions and their scope
Timeline of what to expect and when to prepare
In a future webinar, we will cover other legislative proposals that are still in the works, including the Data Governance Act, the Data Act, and the Artificial Intelligence Act.
Watch the OneTrust DataGuidance webinar: 'The New Digital and Data Strategy in the EU and UK: DMA, DSA and the UK Online Safety Bill' and follow OneTrust DataGuidance on LinkedIn to keep up to date with upcoming webinars, insights, and more.