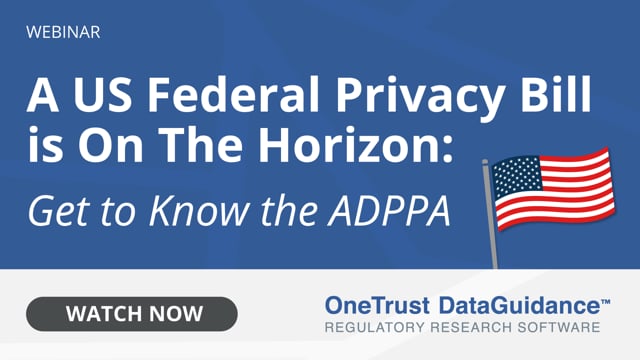 A US Federal Privacy Bill is On the Horizon: Get to Know the ADPPA
Create a free account to access. Already a member?
Log In
.
The American Data Privacy & Protection Act ('ADPPA') now pending in Congress has gained heightened attention across the US Privacy landscape in recent months, especially with the enforcement dates of five US states' privacy laws approaching in 2023. The federal bill has led to great anticipation around how it may impact and potentially preempt state laws should it become law.
Watch the recording to hear a discussion devoted to the ADPPA. In this session, legal experts Michelle Schaap, Member at Chiesa Shahinian Giantomasi PC, and Andy Lee, Partner at Jones Walker LLP,  are joined by OneTrust DataGuidance to provide an overview of what the ADPPA entails, look into the provisions related to pre-emption, and compare the bill to other comprehensive privacy laws.
Watch this session to learn about:
Key provisions of the ADPPA
Concerns around pre-emption of state privacy laws
Comparison of ADPPA to GDPR and CPRA
Donwload the Webinar Slide Presentation HERE.
Further Resources on ADPPA:
Follow OneTrust DataGuidance on LinkedIn to keep up to date with upcoming webinars, insights, and more.