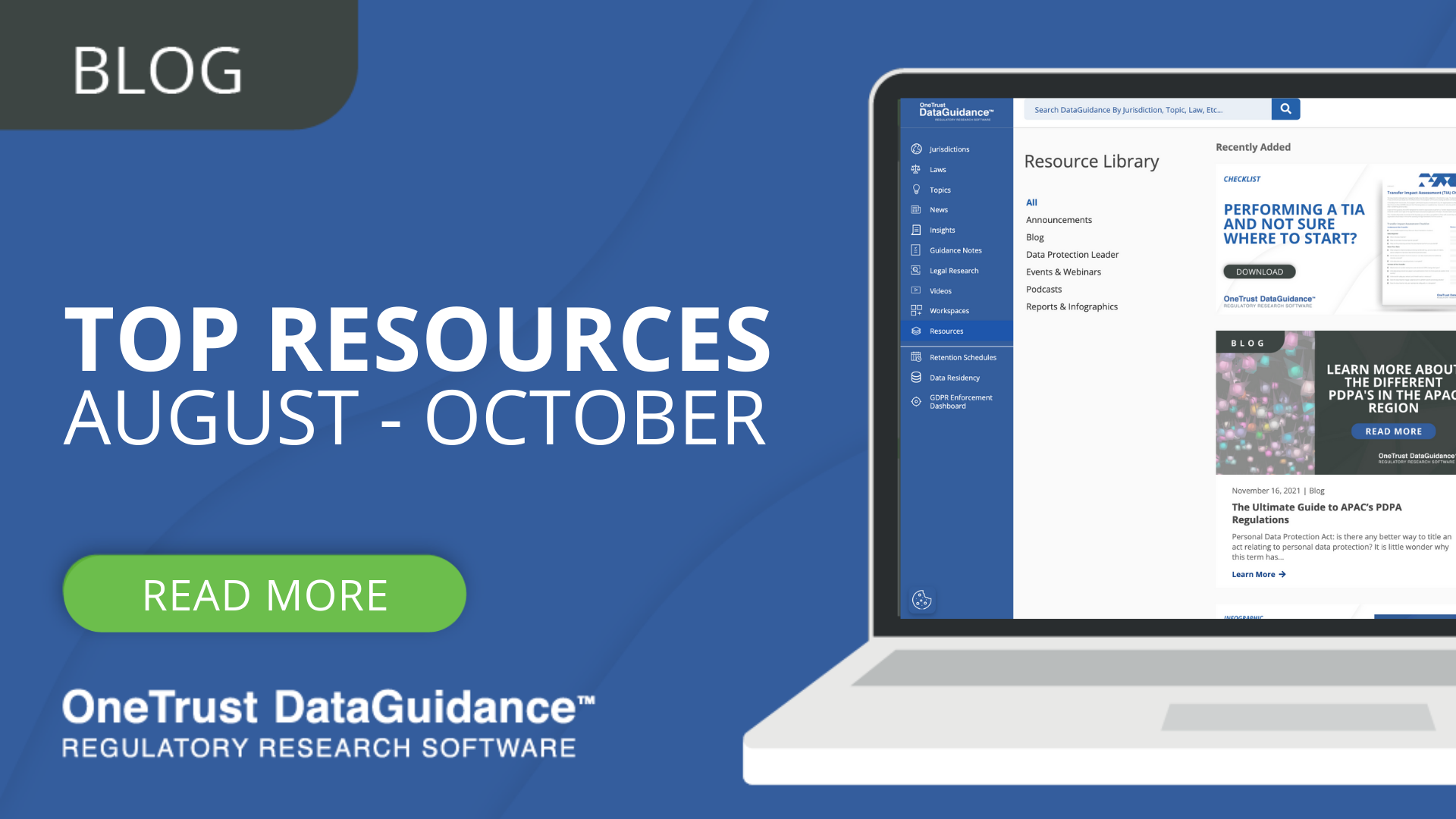 Top OneTrust DataGuidance Resources: August – October
Top OneTrust DataGuidance Resources: August – October
Since August there have many yet more significant privacy developments across the world. Arguably the biggest development of the past three months was the passing of China's PIPL, which took effect on November 1, 2021, giving covered organizations just months to prepare. In Canada, Quebec's Bill 64 received royal assent, introducing new privacy requirements for the private sector. Additionally, focus remains on diversity data and employee background checks across the world, and enforcement of the GDPR has continued across European data protection authorities.
OneTrust DataGuidance is committed to keeping you up to date with the latest privacy developments with daily news alerts and expertly authored Insight articles. It also offers creative content such as infographics and eBooks to help you understand these developments across a range of formats. Explore some of the top resources published by OneTrust DataGuidance below and learn more about trending topics from the last three months.
China's PIPL
On August 20, 2021, China's Personal Information Protection Law (PIPL) was adopted by the National People's Congress (NPC) Standing Committee and took effect on November 1, 2021. The PIPL regulates the use of personal information by companies operating in China and offers data subjects greater control over how their personal information is used. Many provisions of the PIPL are similar to the GDPR and the PIPL includes principles such as purpose limitation as well as the concept of a data protection officer. There are, however, key differences between the PIPL and the GDPR of course, including in relation to personal liability for certain breaches of the PIPL's provisions as well as differing data transfer and localization requirements for personal information handlers.
TOP RESOURCE: Comparing Privacy Laws: GDPR v. PIPL Report
Diversity Data and Employee Background Checks
There has been an uptick in organizations seeking to nurture diversity and inclusion in the workplace over the past few years. As a result, the collection of sensitive personal information in an employment context has increased and has presented several challenges for organizations including balancing privacy regulations with local employment law.
TOP RESOURCE: The Analyst's Inbox: Diversity Data and Background Checks
GDPR Enforcement
European data protection authorities have continued their enforcement activities throughout 2021. However, in the second quarter of the year, the value of the average fine decreased by over €100,000 from the previous quarter, and the number of actions handed out increased to a total of 104 between April and June. The Spanish AEPD has been one of the most active regulators in Europe issuing more actions than any other supervisory authority.
TOP RESOURCE: Fine Enforcement: Q2 Report
Quebec Bill 64
On September 22, 2021, Quebec's Bill 64 received royal assent and was enacted into law. Bill 64 introduces many new privacy requirements for the private sector. Organizations in Quebec will now have to requirements relating to data breach reporting, conducting DPIAs, and fulfilling new data subject rights. Bill 64 has also introduced a new enforcement regime in the region. The new law will enter into effect across three years with the first set of provisions becoming effective 12 months after the date of assent.
TOP RESOURCE: Canada Privacy: Breaking Down Quebec's Bill 64 Webinar
Data Protection Leader
September saw the release of the latest issue of the Data Protection Leader Magazine featuring articles from some of the top voices in privacy. The new issue features articles on new cookies guidelines in Italy, trends in US cybersecurity for 2021, an interview with Beth Waller of Woods Rogers, and an overview of privacy law in China. Additionally, Eduardo Ustaran, Partner at Hogan Lovells, explores the importance of balancing the protection of personal information with the global necessity from international data transfers in his regular editorial.
TOP RESOURCE: Data Protection Leader Magazine | September 2021
Further reading and OneTrust DataGuidance reources:
Follow OneTrust DataGuidance on LinkedIn to keep up to date with upcoming webinars, insights, and more.