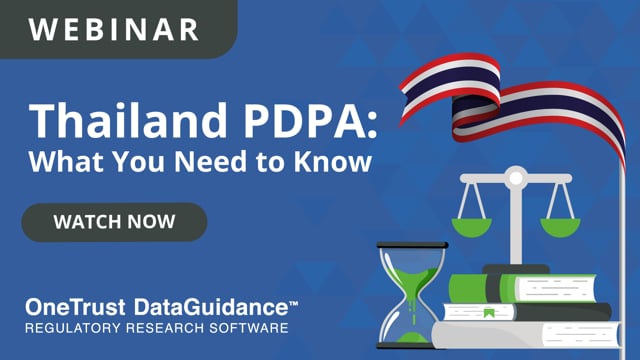 Thailand PDPA: What You Need to Know
Create a free account to access. Already a member?
Log In
.
The Thailand Personal Data Protection Act (PDPA) effective date has been postponed to June 1, 2022, to help reduce the burdens on companies and organisations amidst the COVID-19 pandemic. With the effective date being postponed, it is important for organisations to evaluate their privacy policies and ensure they are adequately prepared for the upcoming compliance requirements.
Thailand PDPA: What You Need to Know Webinar
OneTrust DataGuidance is joined by partners for a webinar discussing the key requirements involved in Thailand's Personal Data Protection Act and the recent postponement of the effective date. 
Key Takeaways Include:
New effective date of June 1, 2022
Obligations for compliance and exemptions for select organisations 
Sub-regulations that impact the key requirements under the PDPA
Achieving compliance under the PDPA
Further resources for privacy compliance for Thailand PDPA:
Watch the 'Thailand PDPA: What You Need to Know' webinar or follow OneTrust DataGuidance on LinkedIn to keep up to date with upcoming webinars, insights, and more.