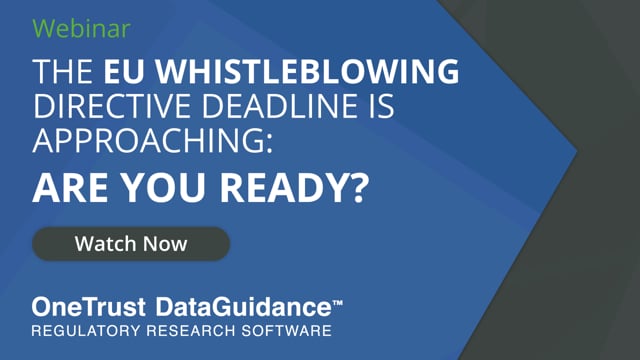 The EU Whistleblower Directive Deadline is Approaching: Are You Ready?
Create a free account to access. Already a member?
Log In
.
Individuals working in private or public organizations are often the first to know about threats to the public interest and violations of EU law. However, fear of retaliation, i.e. an act that occurs within the work-related context in response to a whistleblower report and which may cause detriment to the whistleblower, may discourage reporting of breaches in a work-related context.
The Whistleblowing Directive entered into force on 16 December 2019, twenty days after its publication in the Official Journal. Member States are required to transpose the directive into national legislation by 17 December 2021. A number of member states have already implemented the directive, but the overall implementation status across the EU continues to vary.
Watch OneTrust DataGuidance and Partners at Sidley Austin LLP and Baker McKenzie discuss data privacy issues, the specific reporting requirements of the Whistleblower Directive, and practical steps companies can take to implement a Whistleblower programme in line with the Directive.
Key Takeaways Include:
Provide an update on the Whistleblowing Directive and the progress of its implementation across the EU
Discuss the Directive's scope and applicability and how organizations can prepare for compliance
Highlight Member State variations in obligations
Consider the data protection implications and any privacy-related issues
Further Resources on the Whistleblowing Directive:
Watch the OneTrust DataGuidance webinar: 'The EU Whistleblower Directive Deadline is Approaching: Are You Ready?' and follow OneTrust DataGuidance on LinkedIn to keep up to date with upcoming webinars, insights, and more.