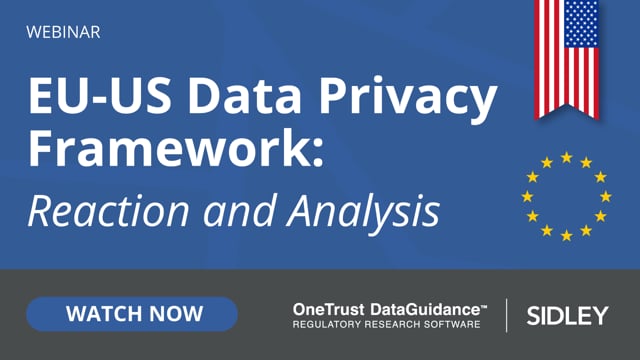 EU-US Data Privacy Framework: Reaction and Analysis
Create a free account to access. Already a member?
Log In
.
On October 07, 2022, President Biden signed a highly anticipated Executive Order on Enhancing Safeguards for United States Signals Intelligence Activities (E.O.) directing the steps that the United States will take to implement the U.S. commitments under the European Union-U.S. Data Privacy Framework (EU-U.S. DPF).
The Transatlantic Data Privacy Framework discussion began in July 2020, following the CJEU's decision in Schrems II. It has finally developed to the point of a reworked data transfers agreement between the EU and the US. Following this news, the European Commission will use this Executive Order as the basis to assess a new adequacy determination and make this new framework functional for organizations.
Watch OneTrust DataGuidance and Sidley Austin LLP for a reactionary webinar, where we will recap the timeline leading to this development and analyze the implications of this new EU-US Data Privacy Framework.
Key takeaways will include:
An overview of the EU-US Data Privacy Framework timeline
An initial analysis of the Executive Order
Understanding what's next for the determination of a new adequacy decision
Further Resources:
Follow OneTrust DatGuidance on LinkedIn for the latest news and insight on EU-US data transfers.