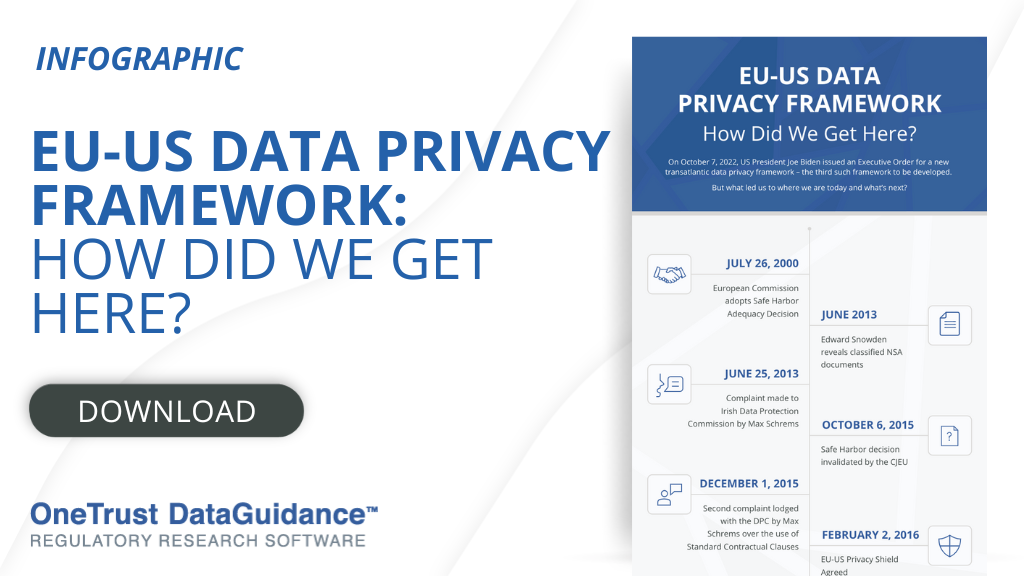 EU-US Data Privacy Framework: How did we get here?
Create a free account to access. Already a member?
Log In
.
On October 7, 2022, President Joe Biden issued an Executive Order on the new EU-US Data Privacy Framework (EU-US DPF). If approved in the EU, the EU-US DPF would provide enhanced protections for personal information transferred between the US and the EU.
The Executive Order follows an agreement in principle on the transfer framework which was announced in March 2022 by the President of the European Commission, Ursula von der Leyen, and marked the first formal step in adopting a new mechanism for transatlantic data flows but also marks a significant moment in the fallout from the Schrems II case. 
Download the infographic to take a quick look into the key dates that led us to a new framework for transatlantic data transfers from the development of the Safe Harbor agreement to the present day. 
Follow OneTrust DatGuidance on LinkedIn for the latest news and insight on EU-Us data transfers.