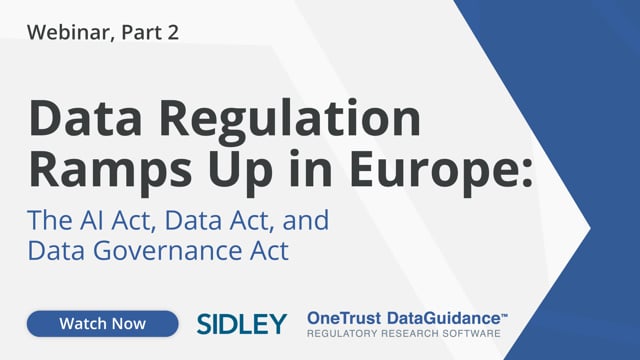 Data Regulation Ramps Up in Europe: The AI Act, Data Act, and Data Governance Act
Create a free account to access. Already a member?
Log In
.
OneTrust DataGuidance was joined by Sidley for Part 2 of the "Data Regulation Ramps Up in Europe" webinar series, where a panel of experts discussed legislative proposals, including the Artificial Intelligence Act, the Data Act and the Data Governance Act (DGA).
In proposing these laws, the European Commission's ambitious Digital and Data Strategy aims to address the legal, ethical and technological complexities of AI, as well as the use of personal and non-personal across the data economy. Combined with the Digital Services Act and the Digital Markets Act, the European data landscape continues to gain complexity. 
OneTrust DataGuidance and Sidley Austin LLP are prepared to help organizations navigate the ever-changing policies and legislations. In this session, experts covered the following topics:
An overview and understanding of the AI Act, Data Act, and the DGA
Key provisions and their scope
Timeline of what to expect and when to prepare
Further Resources on Data Regulations in Europe:
Follow OneTrust DataGuidance on LinkedIn to keep up to date with upcoming webinars, insights, and more.