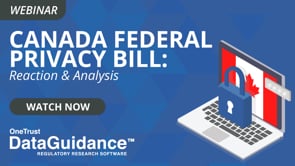 Canada Federal Privacy Bill: Reaction & Analysis
Create a free account to access. Already a member?
Log In
.
Canada Federal Privacy Bill
On 17 November 2020, a bill to reform Canada's privacy landscape was introduced to the House of Commons. Bill C-11 for the Digital Charter Implementation Act, 2020 would enact a new federal privacy law through the Consumer Privacy Protection Act ('CPPA') and would also enact the Personal Information and Data Protection Tribunal Act for the creation of an administrative tribunal to hear appeals on the CPPA.  The bill also incorporates previous amendments made to PIPEDA in 2015 via the Digital Privacy Act. PIPEDA would continue to exist but would be focused on the electronic documents aspect of e-commerce. The Digital Charter Implementation Act, 2020 must now go through both Houses of Parliament for consideration.
Download the report: CPPA: What You Need To Know
Reaction & Analysis Webinar
OneTrust DataGuidance was joined by an expert panel from Borden Ladner Gervais LLP and Farmers Edge for a reactionary webinar looking at the new Canada Federal Privacy Bill. In this webinar, we discussed our speaker's initial impressions on the introduction of the bill, what benefits and challenges it may present to organizations doing business in Canada, and future predictions for the bill. 
Related webinar: New Canadian Privacy Laws ('Bill C-11'): The Consumer Privacy Protection Act and its Business Impacts
Follow OneTrust DataGuidance on LinkedIn to keep up to date with new resources, insights, and more.