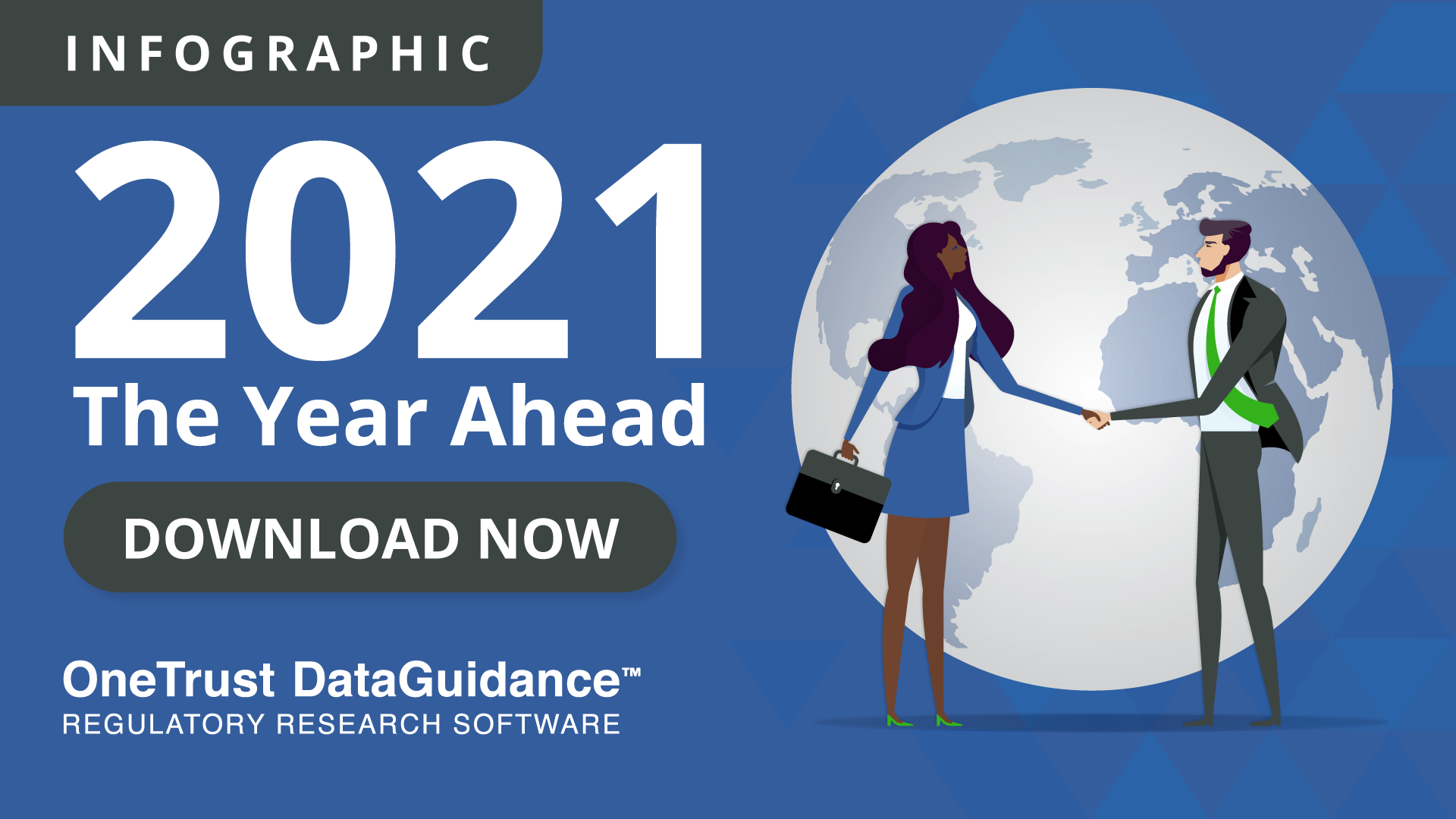 2021: The Year Ahead Infographic
Create a free account to access. Already a member?
Log In
.
Take a look at what is in store for privacy in 2021 with this handy infographic highlighting the key developments to pay attention to in the year ahead. As organizations still seek clarification on many of the notable events of the past year, 2021 promises to bring further significant changes to the privacy landscape.
What's in store for privacy in 2021
Across the world, many countries look set to introduce new laws or amend existing legislation. Simultaneously, several regulations that have already been through the legislative process are expected to enter into force. Furthermore, further provisions within existing laws are expected to enter into effect, most notably administrative sanctions under the LGPD are set for August 1, 2021.
Register Now: OneTrust Data Privacy Day 2021 | Expert Panels
A heightened focus on the regulation of digital services and a legislative expansion on digital identity systems and services are both areas to keep an eye on this year. While in APAC, increased regulation in the financial sector will be high on the agenda for privacy in 2021.
In the US, the fourth set of modifications to the CCPA regulations are anticipated to be released this year, while a federal privacy law remains a hotly debated topic. Moreover, proposed amendments to the HIPAA Privacy Rule would become enforceable in 2021 if approved.
Key themes for privacy in 2021
Aside from regional developments, there are many themes to consider on a global level. Download the infographic to learn more about some of the significant privacy developments to look out for in 2021, including;
The continued fallout from the CJEU's decision in the Schrems II case,
Increased regulator activity, and
The regulation and use of artificial intelligence
Follow OneTrust DataGuidance on LinkedIn to keep up to date with new resources, insights, and more.